​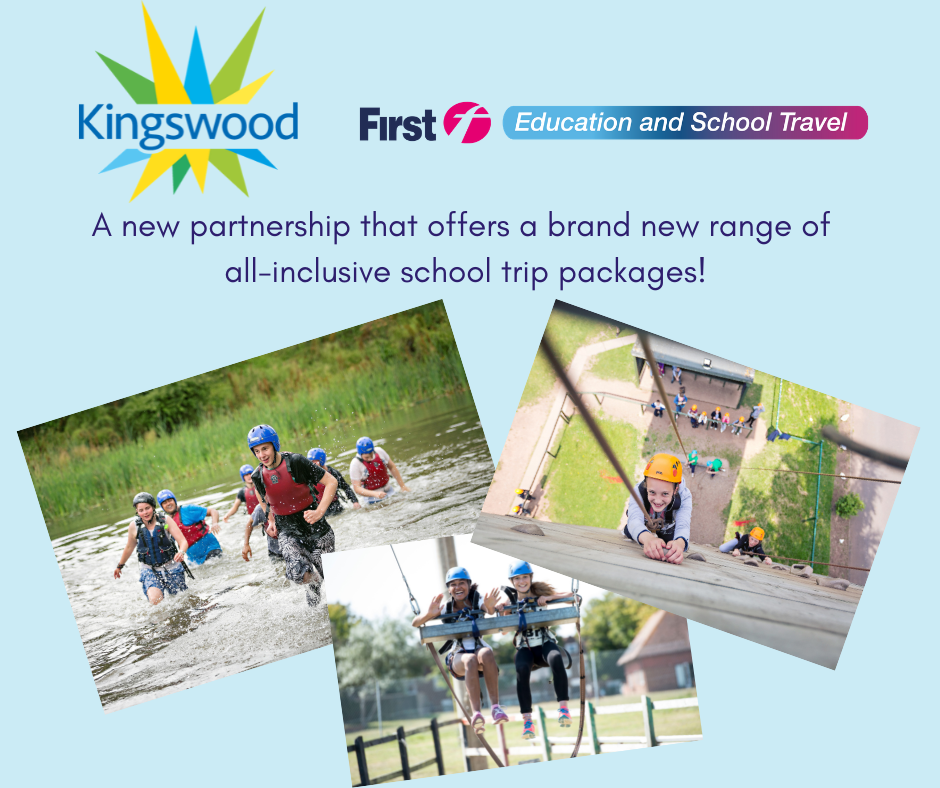 An exciting and adventurous new partnership for 2021
As we move out of lockdown and back into what we all hope will be some normality, we are very excited to let you know about our newly formed outdoor adventure and school trip partnership. First Education & School Travel have formally teamed up with Kingswood to provide a fabulous, fully-inclusive range of outdoor adventure programmes.
Quite simply, this new partnership brings together two hugely successful outdoor activity and group travel providers, each absolutely focused on providing the highest quality adventurous experiences for schools and organised groups of young people.
Our background:
First Education and School Travel:
First Education & School Travel (part of First Travel Solutions) has been a leading provider in the UK school trips marketplace since 2006. With an enviable reputation for providing value for money and attention to detail, FEST lead the industry in delivering a huge range of all-inclusive school trip and group adventure packages. As a fully bonded tour operator FEST brings together all aspects required to deliver the very best of experiences. Working with our partners, we offer the full package – travel – accommodation – meals and activities.
What are we offering?
Every requirement for a successful residential or day visit is brought together into one place and managed on your behalf, from the first contact through to your adventure and return home. The team at FEST includes some of the most experienced individuals working in UK school travel and tourism, with an understanding and knowledge that provides real support and assurance for group leaders.
In short, we believe our all-inclusive school trip packages are industry leading and offer the highest possible standard of service and value for money.
Our partners Kingswood:
For over 35 years Kingswood have been providing transformative trips that have helped young people build confidence and resilience by taking on fun challenges.
With ten activity centres across the UK, plus a Château in France, Kingswood provide life changing adventures which leave their guests with memories which last a lifetime. Their award-winning programmes include a wide range of activities from zip wires to night line, with each specially designed to develop key life skills such as problem solving, communication and team work as well boosting self-confidence by encouraging young people to step outside their comfort zone in a safe and supportive environment.
This new partnership offers a brand new range of all-inclusive school trip packages, available all year round and with low-season opportunities that provide even greater value for money and which are designed to make taking part in a school trip more accessible for parents with tighter budgets.
Making an all-inclusive adventure outside of the higher season months offers greater flexibility and significantly reduced costs. All aspects of the trip are arranged for you with just one contact point and continual support throughout.
Your high-quality coach travel is arranged for you, your accommodation is secured, your menus are planned in advance to include a range of alternatives to suit all diets and allergies. Then, we work with you, and our partners at Kingswood, to bring together an activity programme designed to offer real adventure, tangible learning outcomes and lifelong memories.
Our all-inclusive residential packages are flexible in length from 1 night / 2days to week-long adventure holidays. With ten UK activity centres available, we are sure that there is an ideal location suitable for you all year round and within an easy travel distance from school.
Locations available:
Colomendy, Denbighshire, North Wales
Grosvenor Hall, Kent
Green Park, Buckinghamshire
Staffordshire, West Mids
Bembridge, Isle of Wight
West Runton, North Norfolk
Dearn Valley, South Yorkshire
Overstrand Hall, North Norfolk
Dukes House Wood, Northumberland
Peak Venture, South Yorkshire
For more information contact Rick Smith, Head of Education, First Education and School Travel rick.smith@firstbus.co.uk or 07590 600 533 or to make an enquiry for your next adventure email: school.travel@firstbus.co.uk